Announcing Auditions for Learning Spanish!
Published: March 10, 2019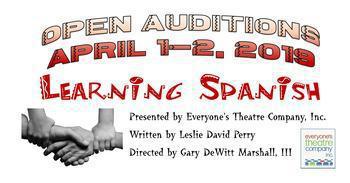 "Learning Spanish" is an unlikely love story that developed from a single act of kindness.
Watts is a neighborhood in southern Los Angeles founded as a ranching community in the late 19th century that developed into a city and prospered in the railroad era. Watts transformed into a mostly working-class, African American section of LA in the 1940's, but by the 1960's had become known as a low-income, high-crime area with rampant violence and gang activity. Since then, Watts evolved into a predominantly Hispanic neighborhood still considered one of the poorest and dangerous areas of LA. This is the troubled neighborhood where "Learning Spanish" is set.
Loretta is an attractive Hispanic woman in her mid-thirties running with her two young daughters from an abusive husband. She is strong and believes that this situation is a temporary setback, and is determined to build a better life for her and her children. She is saved from a mugging attempt by Henry, an older bachelor that lives alone in a run-down but clean apartment.
Henry mostly keeps to himself after losing the one woman he'd ever loved. He is well educated, but doesn't get involved with people or activities, disappointed that his Masters in American Studies did not lead to a satisfying career. He simply got tired of trying after a while, and settled into a security guard job. He kept to himself, spending evenings reading and writing scads of letters about social issues to editors of newspapers and magazines as the one outlet for his thoughts.
Henry is uncharacteristically moved to help Loretta and the girls, and they develop a friendship at a time when they both needed it the most. Loretta finds her voice, Henry finds companionship, and they are both better off for it.
Characters: HENRY: 50-60 Year old African American Male LORETTA: 40's Hispanic Woman MARIA: 10-12 Year old daughter CHRISTINA: 8-10 Year old daughter STEVEN: 40 Year old any ethnicity
Auditions will be held Mon/Tues April 1-2, 2019 from 6:00-8:30PM at the Evangelical Church of the Reformation, 111 N Chestnut St, Rochester. If callbacks are necessary, they will be held Wed April 3.
Rehearsals will begin the week of April 8, typically Mon/Thurs evenings in April and Mon/Thurs evenings plus Saturday afternoons starting in May. These will also take place at the Reformation Church at 111 N Chestnut St, Rochester.
Performances will be July 11-14, 2019 at MuCCC, 142 Atlantic Ave, Rochester.
Parents of minors are required to be present for auditions and all rehearsals.
« View All News